I'm going on my 4th year of Blythe! It has flown by fast!!
I'm doing a bit of doll selling again. It is time for a change in my house. I recently sold my Prima Dolly Ginger. It was a hard decision. She has been with my for a long time but it was time for her to go to a new home.
I am currently selling my Silver Snow. She doesn't get any play time from me. I may sell a girl that I just got also...Merry Skier. For some reason, we aren't bonding. It is sad really. I have a friend who got her also and she LOVES her. I guess different strokes for different folks.
Before Christmas I depressed-bought 2 new dolls. It's been a tough December. It did brighten my holiday when the 2 Icy dolls arrived on my last day of work before Christmas! I ran to the post office to pick them up and opened with my boss.
I got the Leek girl, or *Coser* correction her name is Hatsune Miku, and the Empress.
Hatsune Miku *Coser*, which I named Leek (original, huh?), is by far my favorite of the two. I'm so glad I finally decided on her. Her hair is luscious. I tamed it out of the pigtails pretty well by wetting it and a head hugging hat. I was very impressed with the thatching on the pigtails. I mean, look at this:
WOW!
She has already had a make over:
This photo has a filter. I stupidly did not save the other photo I took in daytime to my Camera Roll on my iPhone.
I really love her bright red eye make up. I was keeping her eye closed to make sure the glitter paint was dry. I rushed putting the eyemech back in....I just couldn't wait to see her together!!
The Empress's hair is inferior by comparison. It feels a bit fried. I may reroot her hair in mohair. For a long time I've lusted for an Icy on Flickr with lemon yellow mohair. (Here's her link:
http://www.flickr.com/photos/ililziv/5925395907/
) Her dress is really lovely though.
I forgot to mention their eye chips! OMG, absolutely the best part. They are much more diverse than Blythe. Leek has light tan, yellow, light green, and light blue. Empress has light blue with foils, toffee, pink (erlack), and emerald. Only ones I would pull out is the pink. I'm not a fan.
Their arms seem to be a better quality of plastic than Champagne, my first Icy. The clothing did not stain their arms and the plastic seems to be thicker. I thought I was going to poked the wire though on Champagne.
The legs are a 3-click system like Blythe rather than the bendy Licca legs.
And finally, my shop update.
With my first semester of grad school under my belt (I made all A's!) I am restocking my Etsy shop, BlytheKnits.
I've become pretty obsessed with find my Blythes vintage Skipper clothing. I have some duplicates that I am preparing for my shop. They are Skipper and Barbie clothes that circa 1963-66. I've been doing "little laundry" as my family calls it.
Also, new this year is Skipper inspired Mod Dresses.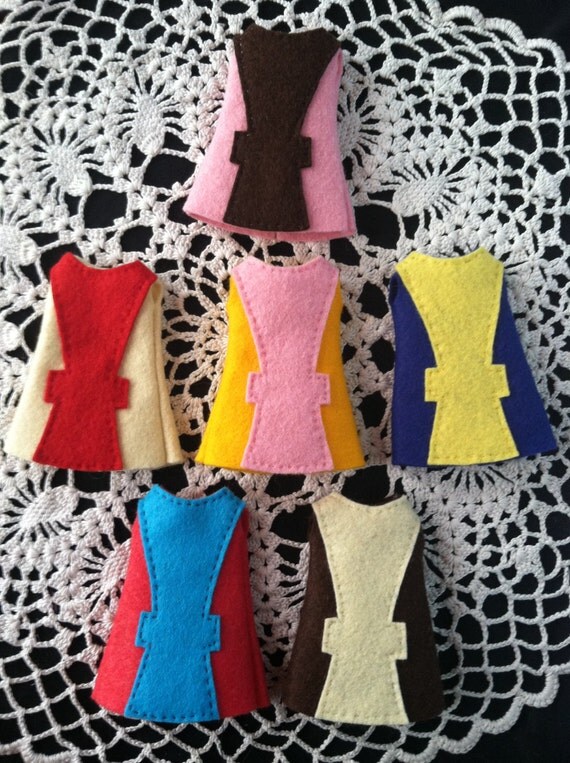 They are made from wool/wool-blend felt with snap closures.
I hope to get the vintage item ready for sale this weekend.
* I think Coser is a brand name or something.